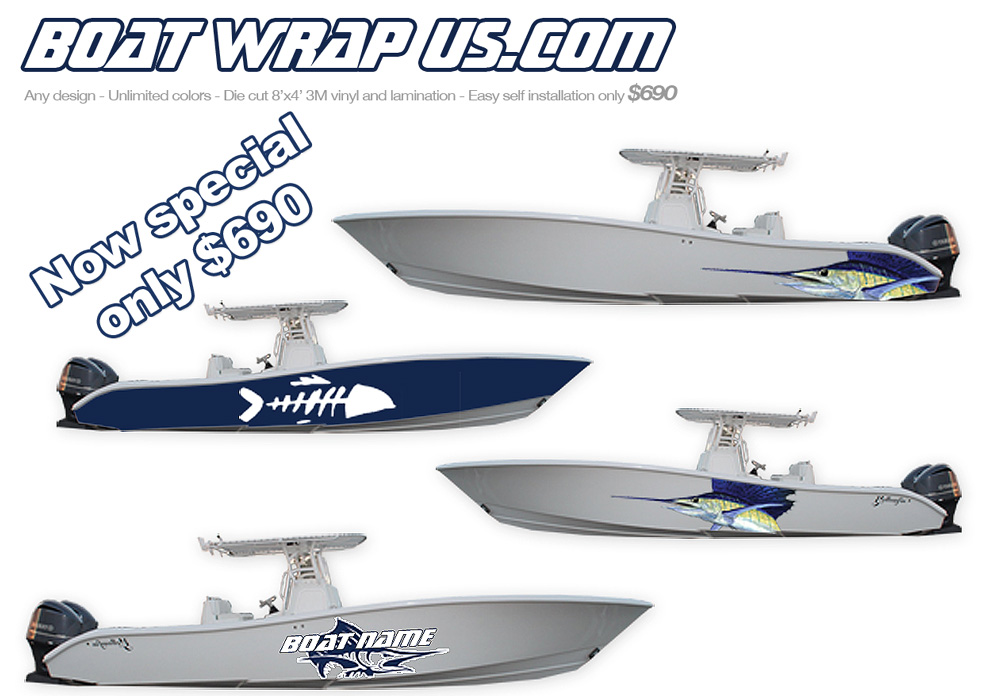 Carwrapus.com is your marine wrap specialist, since 1998. We provide the following services, boat graphics, color change, lettering, custom decals & signage. We have been producing custom work for boats & yachts and the entire marina industry for many years. Our designers along with our experienced installers provide quality custom work for the marine industry. Marine design services: we make custom Drawn Vector Illustration or Photoshop Design Logo and text for your boat or yacht. We can design on all sides of your boat even the back in any size.
Getting ready for the boat show, we make large format graphics and signage, installed on time! Yacht lettering, graphic signs, we can produce any type of custom fonts, tournament boat wraps with graphics design services. We only use 3M vinyl and lamination for our clients it is the best vinyl on the market. We can wrap sport fishing boats, pleasure boats, yachts, hull wraps, boat interior and finishes. Boat names available in gold leaf any size, life rings, 3M lettering and graphics. Side FL registration numbers available for all boats and yachts, 3M carbon fiber also available.
Central Console Sport Fishing and Flats Boats 3M Vinyl Wrap
CarWrapUS also offers boat wraps for all types of boats, fishing boats, leisure boats, inboard or outboard, flat boats, sailboats all boat types big or small. If you have a boat you have been thinking about painting because it is either oxidized or you just want a color change, we are the company for you. While painting a boat can be costly and timely. A 3M boat wrap is a less expensive alternative to painting and will hold up to the natural outdoor elements better than painting. A boat wrap installation usually takes between 2-3 days so by the weekend you'll be back on the water. Do you want more than just a color change, customize your wrap with your personalized boat name or maybe a picture of your favorite fish, hobby or loved one or any other image you have in mind.